BWT Thero 90 & Thero 90 Pro RO Systems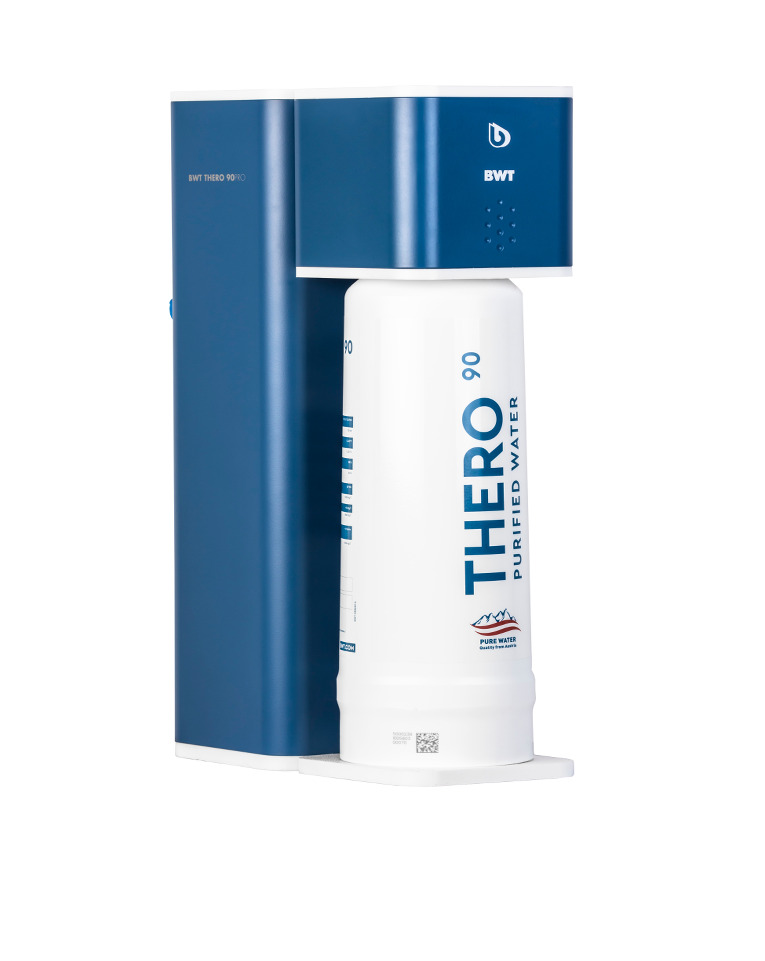 BWT Thero 90 & Thero 90 Pro RO Systems
Under the sink drinking water reverse osmosis system
The Thero 90 and Thero 90 Pro are part of BWT's new range of reverse osmosis systems that can deliver purified water directly to your tap. Pure water that is free from Nanoparticles, Microplastics and even Bacteria. Water that can be used safely to drink, wash vegetables to cook and as the base water for specialist water requirements like for aquariums and horticulture. When you can enjoy water this good from the tap, it eliminates the need to buy single-use plastic bottled water. The BWT Reverse Osmosis Cartridge for the BWT Thero 90 is full of benefits including its space saving compact side. It's also easy to change, just screw in and out and replace annually.
Our Thero 90 Reverse Osmosis System comes with the following components.
Reverse Osmosis Cartridge System Hoses and Adapters
One-way tap for drinking water
Drainage clamp
Bluetooth Connectivity (Available only with Thero 90 Pro RO System)
How does BWT Thero 90 work?

Part of BWT's new generation of compact water purifiers, the Thero 90's compact size and ease of installation means it can be easily installed and connect to the mains water supply under the kitchen sink. The simple design means that raw water is pushed through the patented purifying system while any wastewater from the process is sent harmlessly to the drain.

The process effectively separates the incoming water from any undesirable elements by forcing it through a series of filters and then specialist membrane under high pressure. Any salts, bacteria, organic substances, microorganisms and microplastics are held back by the membrane and sent to drain while the purified water passes through the membrane ready for you to enjoy or use.
Advanced Reverse Osmosis System

The BWT Thero 90 brings BWT'S advanced reverse osmosis technology into the grasp of homeowners and small volume commercial users. Ideal for creating purified drinking water and the base water for specialist applications. The system is characterized by:

Its flow rate up to 1.5 litres per minute
The one piece simple and elegant design
Efficient operation only 50% rejected water
No bulky storage tank
Its compact size that can be easily installed even in a cupboard
Low noise pump which is perfect for domestic kitchens
Easy to use and simple to maintain with its single RO based cartridge system
Fuss free cartridge replacement system
Bluetooth connectivity for monitoring of water quality (THERO 90 PRO only)
Multi-Stage Filtration Process

Level 1. Micro filtration > 0.1 μm

Removes: Plankton, Algae, Turbidity, Bacteria and Undissolved Particles

Leve 2. Ultra Filtration  > 0.01 μm

Plus: Macromolecules, Viruses and Colloids

Level 3. Nano Filtration > 0.001 μm

Plus: Organic compounds and large ions

Level 4. Reverse Osmosis > 0.0001 μm

Plus: Ions
Eco-Friendly Water Purifier For Your Home

Purified water directly from your tap eliminates the need of consuming single-use plastic bottled water
Less plastic consumption helps in saving our Planet Blue
Sustainable and efficient water system with only 50% waste water
Ideal water for your Aquarium

Aquarium enthusiasts know that the best water is osmotic, because by removing over 95% of impurities and toxic substances, it guarantees an environment suitable for the well-being of the fish. The water must then be remineralised with the appropriate salts.
Changing the World, Sip by Sip

By installing a BWT osmosis system, you use your local tap water and protect the environment. You no longer have to carry heavy single use plastic bottles of water and dispose them, because you will always have fresh water available in large quantities. Single-use bottled water often travels long distances before reaching you. BWT treats the water on site and thus reduces unnecessary transport. The result: less CO2 emissions, which is good for the climate and you also reduce the consumption of disposable single use bottles that end up in the ocean.